01/11/2021 06:00 AM Central
Christen Hull

Welcome
Hello Friends.
Thanks for tuning in to Twelve Minute Health Bits. This is your host, Christen Hull, providing health and wellness support for the 21st century. We will be talking about using simple methods from today and centuries ago to keep our bodies healthy. Our goal is to daily stay "Above the Wellness Line." In this podcast I will be giving you tips and tricks on how to daily make small changes to your life in order to keep your body well.
Episode 31 - Listener Favorite DIY's Dishwashing Powder and Help Curb those Cigarette Cravings
Grab your peppermint essential oil, place a couple drops on your palms, and rub your palms together. Or, put some in your diffuser and turn it on during this podcast. If you do not have peppermint, use lemon essential oil.
Dishwashing Powder
Dishwashing detergent is important because your dishes are washed with it, it dries on your dishes, you put food on/in your dishes, and then you eat/drink that detergent with every bit. So you really want to be aware of what you are using. Many products say they are safe and green, but many products are not, and are actually carcinogenic.
So, after setting out to find a clean recipe, I have found one! I purchase in big bulk buckets baking soda, washing soda, and citric acid. Citric acid is a very important ingredient in this. I put equal parts of each ingredient into a half gallon mason jar. For example, one cup of baking soda, one cup of washing soda, one cup of citric acid, put the cover on, and shake well. Then I repeat this till the container is almost full. I put 30-50 drops of any citrus oil on the top and shake well again. This lasts our family, of five, a couple months. It works great, my dishes are sparkling. I put a rinse aid in my dishwasher from Vitacost, and looked up all the ingredients and they are very, very safe. This is not only healthy for your body but focuses on being good for our environment as well.
Help Curb those Cigarette Cravings
Guest - Kelly with her husband's story.
My husband grew up with both parents who smoked and started smoking at age 11 or 12. In high school, he smoked about two packs per day. Then when we were pregnant with our first daughter, about five years ago, he decided to switch to vaporizing. Which is not good for you either but would break the habit of cigarettes. When we got pregnant with our second daughter, he wanted to quit vaporizing so he was not smoking or using anything in front of our girls. He wanted to be a good model for them. He quit cold turkey for a few months until the cravings took over and then started on nicorette gum. And then I came across a study on black pepper and how it is a smoking cessation. We found a recipe for making toothpicks and we switched him over to that. So for the last two years he has not had any cigarettes, vaporizing, or nicorette gum, and is just using the toothpicks.
Toothpick Recipe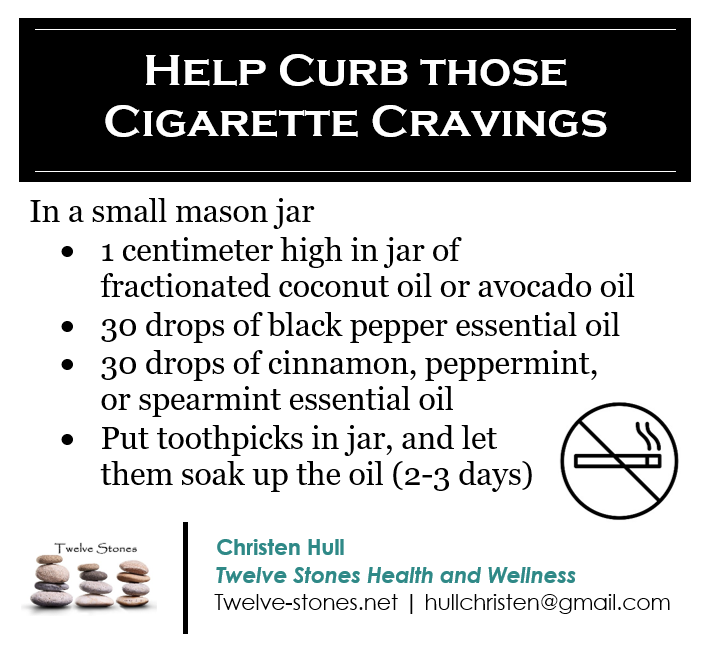 I take a little mason jar and pump fractionated coconut oil into it. Coconut or avocado oil would work. About one centimeter high from the bottom of the jar. Put 30 drops of black pepper and 30 drops of cinnamon bark essential oil. You could use peppermint or spearmint or any flavor you like. My husband likes the spice of the cinnamon with the black pepper. You put the toothpicks into the jar and let them sit for a few days until the toothpicks absorb all the oil. The toothpicks take the oils and they taste good. At first, my husband would go through a jar pretty quickly, but now, he just takes one when he has a craving.
Titus 2:11-12 "For the grace of God has appeared that offers salvation to all people. It teaches us to say 'No' to ungodliness and worldly passions, and to live self-controlled, upright and godly lives in this present age."
Our positive affirmation for the week is: "I have the self-control to take care of my body the way God intended for me to."
Products Featured on Today's Broadcast
Visit www.twelve-stones.net to place an order
Essential Oils
Peppermint

Lemon

Any Citrus oils

Black Pepper

Cinnamon Bark

Spearmint
Supplements
Baking Soda

Washing Soda

Citric Acid

Coconut Oil

Avocado Oil
Conclusion
Hey Friends.
Thank you for tuning in to this resource from Twelve Stones Health and Wellness with Christen Hull. If you have an idea for an upcoming episode, send it my way, I would be happy to explore the topic. If you are interested in more information on becoming a member of Young Living and receiving the benefits of synthetic chemical free living in your home, please talk to the person who shared this podcast with you or, visit my website at www.twelve-stones.net. If you find this resource helpful, I encourage you to enjoy and share this podcast. Please do not alter the content in any way or charge for this resource.