01/25/2021 06:00 AM Central
Christen Hull

Welcome
Hello Friends.
Thanks for tuning in to Twelve Minute Health Bits. This is your host, Christen Hull, providing health and wellness support for the 21st century. We will be talking about using simple methods from today and centuries ago to keep our bodies healthy. Our goal is to daily stay "Above the Wellness Line." In this podcast I will be giving you tips and tricks on how to daily make small changes to your life in order to keep your body well.
Episode 32 - Listener Favorite DIY's Thieves Spray and Skin Glow Serum
Place 10 drops of thieves or peppermint essential oil in your diffuser to help you get focused and the air crisp and clean.
Thieves Spray
This was my first DIY ever with Young Living products. As I come out of the grocery store or anywhere and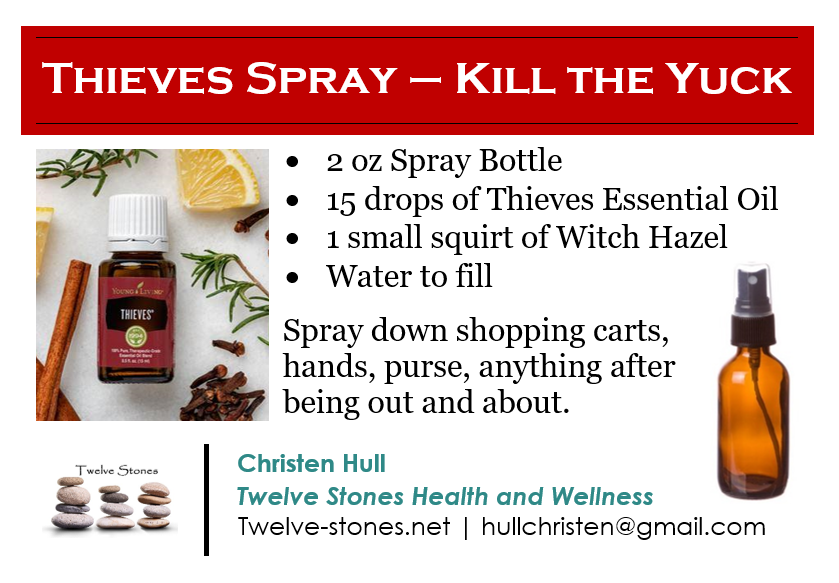 I am concerned about any yuck I may have picked up, I spray things down, I even spray my kids! Spray your hands, steering wheel, bottom of your purse, or bags, anything, so that you feel good about bringing items into your home. To make this you take a 2 ounce spray bottle, add 15 drops of thieves essential oil, a small squirt of witch hazel, and water to fill. You want to make sure the water goes slowly into the bottle because otherwise it will overflow and you do not want to waste any oil. Witch hazel is an emulsifier and keeps the oil and water from separating. You can make the spray without it, otherwise you can also use rubbing alcohol. But I prefer witch hazel, because rubbing alcohol dries out my hands. Shake the bottle well, and throw them in your purse, pocket, and in the diaper bag. Let me know if you make this and how you like it!
Skin Glow Serum
Guest - Ally with her glow serum.
This is a way to pamper yourself! This recipe includes blue tansy, which is really really blue! So, make sure you use it diluted as the recipe says. Ally's first time using it, she did not dilute it and her entire face was blue! So learn from Ally. It is amazing for your skin and smells wonderful, but hard to get off your skin when undiluted.
This recipe has a carrier oil which helps blue tansy melt and dissolve into your skin. This is a facial glow serum I use twice a day after washing my face.
Blue tansy supports skin and reduces inflammation;

Copiaba which is great for skin, anti-inflammatory properties, and very gentle; and

Lavender is soothing, smells amazing, brings calm to the serum, and supports skin blemishes and redness.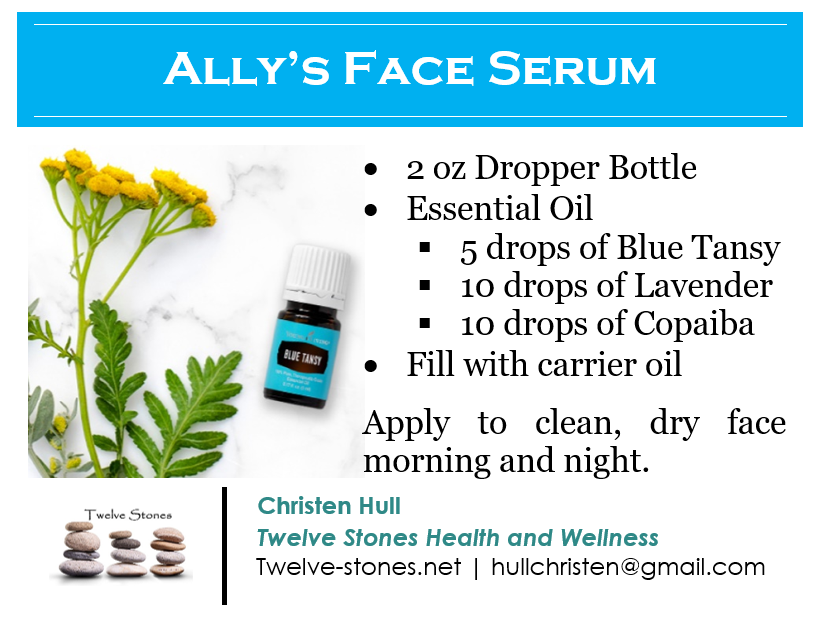 You will need a 2 ounce glass dropper bottle, 5 drops of blue tansy, 10 drops of lavender, 10 drops of copiaba, and a carrier oil of your choice. I love Young Living's V-6 carrier oil because it does not smell, it does not sting, and it does not clog my pores. It comes with a super convenient pump also. I use this serum twice a day, it makes my face feel really good, decreases redness and inflammation, and overall is good for skin health. Let Christen know if you make this DIY!
This week's positive affirmation is: "I have the tools I need to keep my body healthy and keep my skin glowing."
Esther 4:14 "perhaps this is the moment for which you have been created."
Products Featured on Today's Broadcast
Visit www.twelve-stones.net to place an order
Essential Oils
Thieves

Peppermint

Blue Tansy

Lavender

Copaiba
Supplements
Witch Hazel

V-6 Carrier Oil
Conclusion
Hey Friends.
Thank you for tuning in to this resource from Twelve Stones Health and Wellness with Christen Hull. If you have an idea for an upcoming episode, send it my way, I would be happy to explore the topic. If you are interested in more information on becoming a member of Young Living and receiving the benefits of synthetic chemical free living in your home, please talk to the person who shared this podcast with you or, visit my website at www.twelve-stones.net. If you find this resource helpful, I encourage you to enjoy and share this podcast. Please do not alter the content in any way or charge for this resource.