02/01/2021 06:00 AM Central
Christen Hull

Welcome
Hello Friends.
Thanks for tuning in to Twelve Minute Health Bits. This is your host, Christen Hull, providing health and wellness support for the 21st century. We will be talking about using simple methods from today and centuries ago to keep our bodies healthy. Our goal is to daily stay "Above the Wellness Line." In this podcast I will be giving you tips and tricks on how to daily make small changes to your life in order to keep your body well.
Episode 33 - Glowing Skin from the Inside and Out
Healthy Diet
Eating a healthy diet is the first step you can do to have healthy skin. We want to get rid of processed foods, hydrogenated oils, all the junk, and start taking in good quality food, organic if you can. Healthy fats like grass fed butter, raw cheese, avocados, and Brazil nuts are not bad for you. They are really, really good for you! Two Brazil nuts have a daily dose of selenium. Also a great source of protein. Collagen is a great thing to add to your diet also, such as Great Lakes Collagen powder. This brand comes in different good tasting flavors.
Sugar is the worst thing we can be taking in. I am talking white table sugar. Eat as little as possible and sweeten with maple syrup, honey, stevia, and those types of things. Those are excellent for your skin from the inside out. Another culprit for skin that is not so glowing or has red bumps on it, are gluten and dairy. If you are having trouble with your skin, I suggest you remove gluten, dairy, and sugar from your diet. To help your body get back on track. Eat raw foods as much as you can. Cooking vegetables with grass fed butter is an excellent source of vitamins and minerals for you. If you are struggling with your skin, get rid of these things and see what that does for you. You will not notice a difference in days, it does take a long time for your body to reset, such as three to six months. But, by doing this you are also focusing on your inside health as well. Your skin is your largest organ. If your skin is not healthy, this is your body's way of saying something is not right inside, please help, alert, alert, alert! NingXia Red is also wonderful, whole foods based, and supports cellular health.
Drink Water
Drink lots and lots of water! Take your body weight, divide it by two, and that is how many ounces of water you should be drinking a day. This is an area that I really struggle with. I just forget throughout the day and do not get enough in me. If anyone has ideas on how to increase water intake let me know. I forget about it till late at night, and then do not get it in me because I do not want to be up all night going to the restroom. I am speaking to myself in this, get your water in right away in the morning.
Those are my tips for how to care for your skin from the inside. Now we are going to talk about how to take care of your skin from the outside.
Last week, we had Ally on our show and she talked about her Blue Tansy Serum. You can use this morning and night or just at night before bed.
Sea Salt Face/Body Scrub
Guest - Nikki is a mom of two boys, loves to work out, summer, and also loves essential oils (kind of an obsession)
Nikki uses this scrub once a week. She puts it on her skin for about two minutes and washes it off with Young Living's charcoal bar of soap.
My boys are my main reason for my obsession for essential oils. For this scrub you want a good salt! I like getting the coarse sea salt and Himalayan pink salt ground real thin. These are the main ingredients. They are your base for this scrub. We like salt because it puts minerals back into our skin as well. Do not use Morton's iodized salt, it has sugar in it, you want something with minerals added or already in there. Redmond salt is an option. I love the course salt, and it is white. When you mix the ingredients together it makes a nice pretty purple. One cup total of salt. Two tablespoons of oil. Not coconut oil because it can clog your pores. But I do like to use oils that are good for your skin like jojoba oil or sweet almond oil. Sweet almond oil is a hit and feels better on my skin. If coconut oil feels good on your skin then use that. I use Young Living oils, do not try anything else. Ten drops of Blue Tansy and 10 drops of Patchouli, put in a mason jar, Pyrex container, or stand mixer. Then mix. I add 5 drops of frankincense and 5 drops of lemon for anti-aging properties and antioxidant properties. Lemon helps brighten your skin. In the winter we have dry air, so our skin gets drier and duller. Whenever I use lemon it just brightens things up. All these ingredients are amazing! I use this once a week and it lasts for at least a month. Make sure it is stored in an airtight container. You can quadrupole it and put in a stand mixer. When I do this I let it mix for 10 minutes so it is even. That is my sea salt scrub, I hope everyone who uses it tells Christen all about it. I cannot wait for Christen to try it.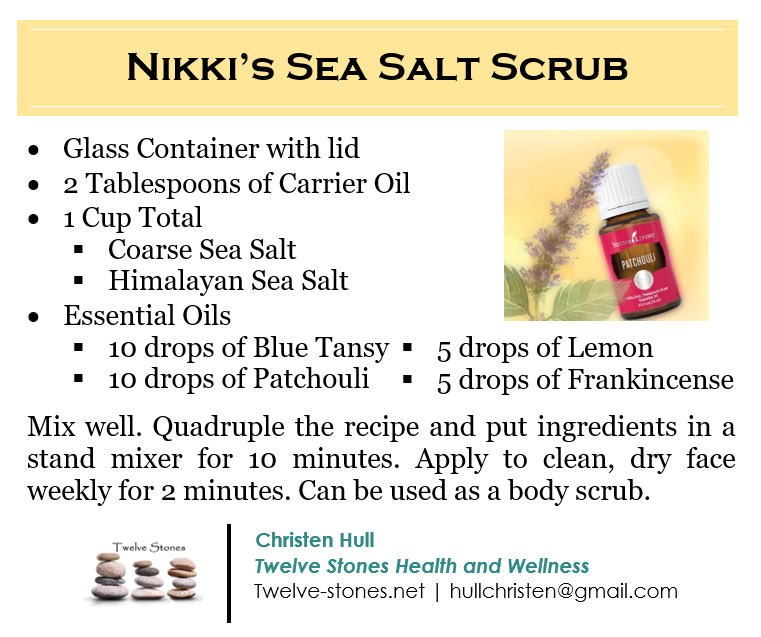 Do you put it on and leave it for a while? I wash my face with the charcoal bar soap, I massage the salt scrub into my face as a mask, for maybe two minutes because salt can burn. I scrub behind my ears and my cheek bones. I really focus on my cheeks. It evens everything out and my skin tone looks so much better. I love gifting it to people, people love it. Blue Tansy is amazing for skin, patchouli is great for wrinkles. It is amazing stuff. I just winged it when I started with this so if you have other oils you want to use, go for it.
There you have it, an amazing DIY for your skin and even a body scrub! It does not have to just be on your face it can be anywhere on your body that is needing a little tender love and care. Nikki talked about using a charcoal bar soap from Young Living so I hope you enjoy that and let me know if you try it. I have so enjoyed having Nikki on the show and talking about ways you can help your skin from the inside out and from the outside in.
Our positive affirmation for the week: "My skin will glow and I will do what I can to take care of it to the best of my knowledge."
Jeremiah 30:17 "For I will restore health unto thee, and I will heal thee of thy wounds, saith the Lord; because they called thee an Outcast, saying, This is Zion, whom no man seeketh after."
Please let me know if you try this DIY. I love to hear when you try our recipes. If you have an idea for an upcoming episode, if you have a DIY you would like us to focus on here, or a great oily testimony that you would like to share with others, please send me a message. I would be happy to explore the topic or have you on the show. If you are interested in joining my Wellness Team, send me a message or talk to the person who shared this podcast with you. Have a wonderful day and be well and be blessed my friends!
Products Featured on Today's Broadcast
Visit www.twelve-stones.net to place an order
Essential Oils
Blue Tansy

Patchouli

Frankincense

Lemon
Supplements
Coarse Sea Salt

Himalayan Pink Salt

Carrier Oil (Jojoba or Sweet Almond)

Charcoal Bar Soap
Conclusion
Hey Friends.
Thank you for tuning in to this resource from Twelve Stones Health and Wellness with Christen Hull. If you have an idea for an upcoming episode, send it my way, I would be happy to explore the topic. If you are interested in more information on becoming a member of Young Living and receiving the benefits of synthetic chemical free living in your home, please talk to the person who shared this podcast with you or, visit my website at www.twelve-stones.net. If you find this resource helpful, I encourage you to enjoy and share this podcast. Please do not alter the content in any way or charge for this resource.