Nov 4, 2021 01:41 PM Central
Christen Hull

Welcome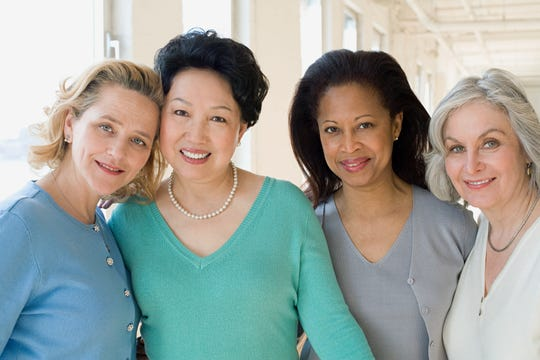 Thanks for tuning in to Twelve Minute Health Bits. This is your host, Christen Hull, providing health and wellness support for the 21st century. We will be talking about using simple methods from today and centuries ago to keep our bodies healthy. Our goal is to daily stay "Above the Wellness Line." In this podcast I will be giving you tips and tricks on how to daily make small changes to your life in order to keep your body well.
Episode 47 - Menopause Support on the Way!
Are you struggling with hot flashes, waking up in the middle of the night, and are your moods going up and down? Today we interview Cheryl Hunt who has a wonderful testimony of using oils to help during this time. She is from Indiana and is a health coach, loves a holistic approach to wellness, and is a certified hypnotherapist.
What was menopause like for you and how did you know you needed support?
It is not comfortable

Changes in menstrual cycle

Mood swings

For me it was intense!
I tried hormone replacement therapy and that was not right for me, so that is when I started with Young Living.
How did you use oils throughout the entire journey?
I used the medical model to try and get through my menopause symptoms and it was just not acceptable. Clary Sage essential oil came to the rescue! I did not know enough about oils yet to fully jump in, but my niece introduced me to them, and the more you know the better you do.
How did you use Clary Sage?
I use it topically and I diffuse it. I use it when my body seems off. The beauty of Young Living and research was that I began not only using oils for symptoms but to get things balanced out.
Entire Body Approach
The body system quiz was helpful for me, and I started thinking about my entire body. Part of it is sleep, sleep is huge! RutaVaLa essential oil is a big one to learn about. Lavender is always the go-to but sometimes you need a big boost. Panaway is helpful with aches and pains.
Ortho Ease massage oil is an everyday usage for me. When you get these things, you feel better about everything.
I also looked at my diet.
Daily Supplement Regimen
I go through quite a regimen during this time period in my life.
Ortho Ease first thing in the morning on whatever is complaining

Mineral Essence this really started balancing things out, magnesium was the answer to that

Itovi scanner really helps identify daily needs

Probiotic Life 9

Prenolone Plus Body Cream

Progessence Plus

Brain Power to get my thoughts in order

Multigreens is awesome
Every part of my day is filled with something. Right now I am estrogen dominant so I am working with that to balance it out.
It is impossible to have a perfect diet, so it is wonderful to have these supplements to help support the areas we need them.
Tell us about Mineral Essence. How do you get beyond the taste and what difference do you notice in your body?
Taking it with food

Making capsules of it
If you feel good from it, you get over the need for it to smell or taste good. Capsules have been the easiest way for me to manage it. It is potent, and it is not unusual for any mineral to be like this. I do not like having restless legs at night so I am motivated!
Were restless legs part of your menopause?
I am not sure, I have researched that as we age we do not absorb nutrients as well as we used to. I want to age gracefully and improve how I feel.
What wellness activity do you do on a daily basis that you would not live without?
Sleep is restorative, sleep is healing. We underestimate what our body needs to do to destress.
Homeostasis
is so vital, and retraining our body to know how to heal. Sleep is a huge piece of that. Letting go and dealing with the stress. Stress is chronic for so many. We need to be conscious about it and intentional about it. Guard your sleep!
Jump in, do your research, essential oils help and they work!
Mineral Essence - Supplement
Mineral Essence is one of the most bioavailable forms of magnesium that you can find on the market today. A lack of magnesium leads to so many health issues. You may not know it, but if you experience any of the following you may be magnesium deficient:
Headaches

Stress

Anxiety

Joint discomfort

Stiffness

Cardiovascular issues

Respiratory issues

Poor sleep

Menstrual discomfort

Poor concentration

Backaches

Muscle aches

Blood pressure issue
Sugar and stress deplete the magnesium in your body. This is why it is so important to supplement magnesium, so your body is at optimal levels to keep everything else in check. Magnesium supplements are not the same, so make sure you take a good supplement.
Clary Sage Essential Oil
Clary Sage helps to balance female hormones and symptoms of menopause. There is significant research on clary sage, cortisol levels, and feelings of inadequacies or not feeling good enough. If you are feeling overstressed/overworked or you just do not matter, this may be a good go to.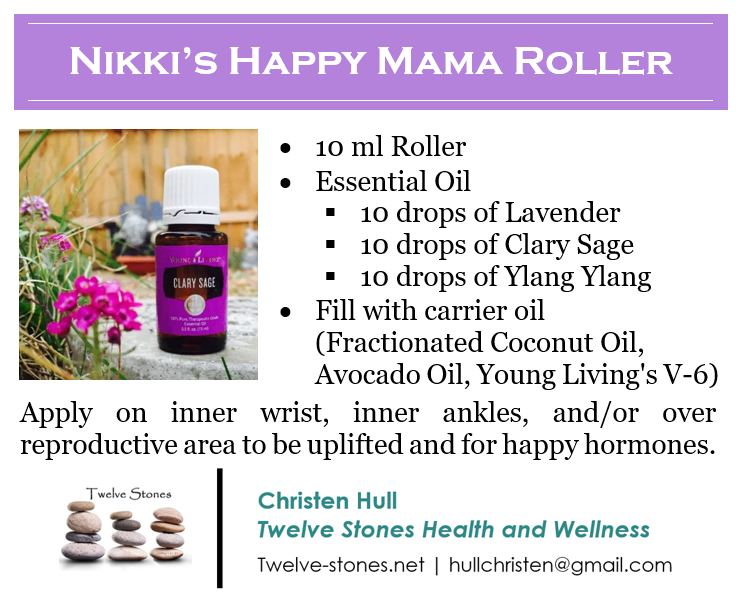 This recipe may be helpful to you!
Products Featured on Today's Broadcast
Essential Oils
Clary Sage

RutaVaLa

Lavender

Panaway

Ortho Ease Massage Oil

Stress Away

Progessence Plus

Brain Power

Ylang Ylang
Supplements
Mineral Essence

Life 9

Prenolone Plus Body Cream

Multigreens

Clear Vegetable Capsules
Conclusion
Thank you for tuning in to this resource from Twelve Stones Health and Wellness with Christen Hull. If you have an idea for an upcoming episode, send it my way, I would be happy to explore the topic. If you are interested in more information on becoming a member of Young Living and receiving the benefits of synthetic chemical free living in your home, please talk to the person who shared this podcast with you or, visit my website at www.twelve-stones.net. If you find this resource helpful, I encourage you to enjoy and share this podcast. Please do not alter the content in any way or charge for this resource.
References
Lee, K. B., Cho, E., & Kang, Y. (2014, November). Changes in 5-hydroxytryptamine and cortisol plasma levels in menopausal women after inhalation of clary sage oil.
Phototherapy Research
,
28
(11), 1599-605. 10.1002/ptr.5163
Raman, R. (2017, September 5).
How your nutritional needs change as you age
. Healthline. https://www.healthline.com/nutrition/nutritional-needs-and-aging?fbclid=IwAR3jCv2-zwnEzkpbGUVQQfO-HQEmFLqTW_iZl5VuIaAHecupoUiVtmtlZLk
Shimokata, H., & Kuzuya, F. (1993, July). Aging, basal metabolic rate, and nutrition.
Nihon Ronen Igakkai Zasshi
,
30
(7), 572-6. 10.3143/geriatrics.30.572